Published 2/1/2023
From going on holiday, getting to work or just going to the shops, how we travel is a big (often the biggest) part of our carbon footprint. In fact, 16% of global emissions come from travel, so it's pretty important.
But what's the real carbon cost of travel and what can you do about it?
Well it's pretty simple, it kind of all comes down to this chart comparing the emissions from different modes of transport, ranging from flying to the trusty old bicycle: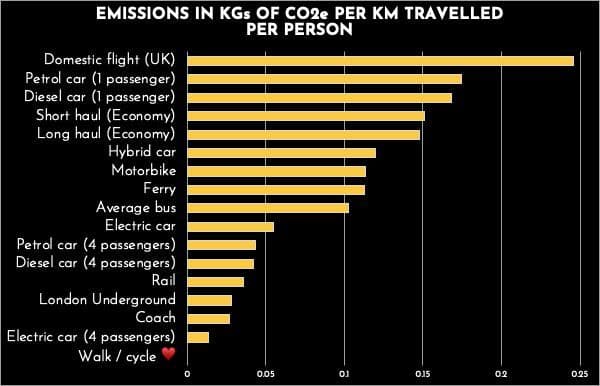 You basically need to switch the modes of transport at the top for the ones closer to the bottom where you can. So trade in the petrol car for an electric one, check out if your employer has a Cycle to Work scheme, maybe avoid flying somewhere when it's just as quick to get the train... 
And the next time you're planning a holiday, have a think about taking a trip without using flights – we're pretty sure you've got a self-help book somewhere telling you the "journey is more important than the destination", so why not try it out?
We've done it ourselves and would recommend - have a look at these for some inspiration:
The Greek Odyssey

– how we got from the UK to a Greek island without flying

The Bordeaux Barnstormer

– travelling to the South of France without flying
If you're interested in more from Carbon Jacked then join the family at the link below and help us rewild the world.
UNLOCK THE FOLLOWING BY JOINING CARBON JACKED
A BREAKDOWN OF YOUR TRAVEL FOOTPRINT
PRACTICAL TIPS ON TRAVELING & ADVENTURING SUSTAINABLY
FURTHER READING & DATA
PLUS
Fund 

amazing projects

 that restore nature & improve lives 🌍
Reduce your carbon footprint with our calculator & advice 👣 📉
Understand sustainability with our infamous explainers 🎥
Plant 10 trees a month 🌲
And much more.
If you ever want to get in touch about how you or your business can become more sustainable, drop us an email at enquiries@carbonjacked.com , or check out our environmental memberships and business services.
Stay green,